Slide 1
From Beginners to Professional Players, a Tradition of Excellence since 1996.
At Potter Violins, we are driven by a deep passion for serving musicians. As a dedicated full-service violin shop, we understand the unique needs and aspirations of players at every level, from seasoned professional or those just starting their musical journey. We offer a curated collection of fine violins, violas, cellos, and bows to inspire and elevate musicians' performance. We also offer a nationwide instrument rental program and comprehensive repair and restoration services. With generations of music instructors, students, and professionals trusting in our exacting standards, exceptional service, and competitive prices, you can rely on us with confidence. We strive to be a partner in your musical success.
Rentals
Our rental program is recognized nationwide for its high-quality violin, viola, and cello rentals.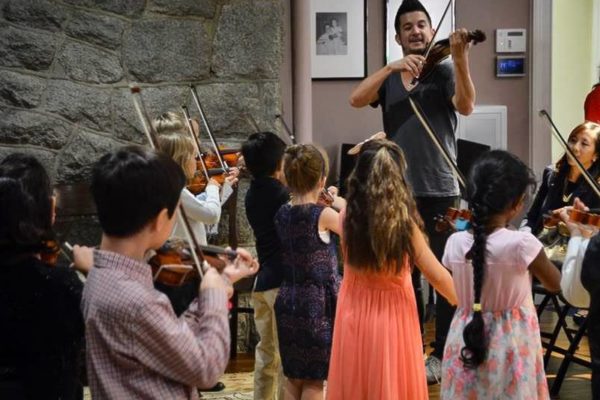 Student Instruments
Working with music educators, we constantly refine our entire line of student instruments for optimum ease of play, reliability and tone color.
Fine Instruments
We offer fine violins, violas, cellos, and bows from contemporary makers to old masters.
Services
Our highly experienced luthiers perform bowed string instrument repairs to exacting standards using the highest-quality parts and time-tested techniques.
Subscribe to our mailing list
Subscribe to our newsletters to stay up-to-date on new instruments, events, promotions, and more
What Our Clients Say
Thank you for the excellent service and in particular the kind, helpful, and competent service provided by your cello specialist, Louis. I am very happy with my upgraded cello! -Felicia…
After years of playing on a J.B. Vuillaume lent from the Library of Congress, I wanted to move to a classic Italian instrument.  Jim Kelly and the staff at Potter…
Dear Mr. Kelly, Thank you so much for your help and work on my viola. It was a very generous act of yours and I appreciate that you and wor work…
Dear Potter Violins family, Thank you for hosting us for such a wonderful day of playing and learning about beautiful instruments. We are so lucky to have you in our…
Dear Jim, Thank you so much for my bow! My other one was so heavy. I was having a hard time playing with it. Thank you for the help with…
Since my daughter started playing cello in August, I have been to your fabulous establishment 3 times. My experience each time has been wonderful. Everyone is so helpful starting with…
I just wanted to say thank you so much for adjusting my violin. It took some time to adjust to Jacksonville weather, but now my violin sounds better than ever!…
Dear Mr. Potter, I write to tell you what a kind and valuable employee you have in Melanie. She has helped my son and me with his rentals since 2013,…
Jim Kelly is my "go-to" person, an adviser that I count on when shopping for violins and bows at Potter Violins. He is welcoming and personable. He can tell me…
I visited to fix minor damages to my violin before my deployment to Afghanistan. They happily took it and made these minor fixes in a jiffy with no costs. I…
Thank you so much for your help. I think I received the best service in a while. I know how busy you are this time a year, but you made…